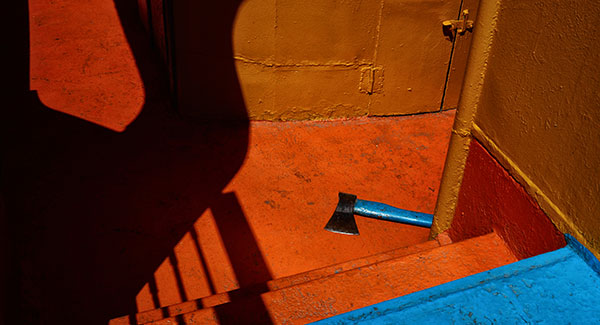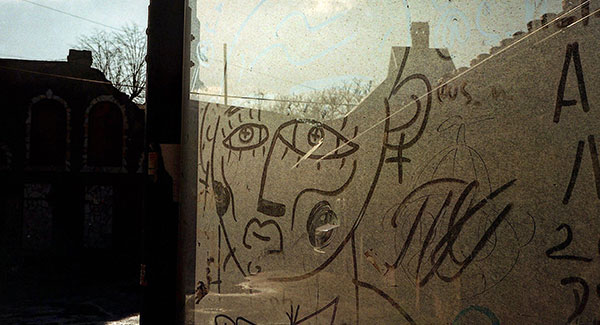 Exhibition
May 10, 2022
In Search of Light
Exhibition, May 10, – July 2, 2022
Photographs by Taras Bychko (Lviv), curated by Pavlo Kovach (Lviv)
The photographs selected for this exhibition were made between 2016 and 2020. Using the interplay of light and shadows, Taras Bychko extracts the city's rich colors, uncovers hidden details, and documents everyday life.
Every photo in the series has its own unique mood and character. The more one looks at them, the more unified elements one discovers. Out of their ideal or unideal harmony the city's frantic history emerges.
"For me the basis of street photography is spontaneous intuition, a sense for capturing the interesting, exciting, and unique things that are happening around us.
I am astonished by the widespread opinion that in order to be a street photographer all you need to do is to take your camera and go 'hunting,' and that from time to time this method will even allow you to create masterpieces. I find that absurd! Street photography is a profound activity that requires careful forethought as well as great visual and practical experience. What is decisive in this kind of photography is the ability always to respond in timely and proper fashion when luck strikes.
The most difficult thing in a street photographer's work is to avoid repetition and always to be self-critical. If the critique is justified, it will allow you to evaluate your work soberly, to understand your mistakes and correct them. It is also important not to be guided by anyone's expectations and to stay true to yourself, to listen to yourself. In my practice I do not draw a line between street photography and documentary photography. I am interested in photography as a whole and don't want to be imprisoned in any specific genre. I want to photograph life all around me such as it really is.
Right now I feel that I want to give my street photography a more documentary quality. Why? Globally, the trend in street photography has been to create a kind of wow factor. It's become the photographer's task to create the most spectacular image possible; to show how intriguingly they can play around with composition, light, etc. But very often there is nothing interesting inside this fancy packaging. I would like for there to be something more behind the beautiful form… That's why I find it more engaging to work on a specific topic, to study and explore it thoroughly."

Taras Bychko, born 1987, is a photographer from Lviv. He is a member of the international Little Box Collective that specializes in street photography, and co-founder of the Ukrainian Street Photography group, which aims to develop and popularize street and documentary photography in Ukraine. Taras Bychko has been the winner or a finalist in international competitions including Ukrainian Photographer of the Year 2016, Leica Street Photo, the Miami Street Photo Festival, and the Documentary Family Awards. His work has been published in Leica Fotografie International, Burn Magazine, National Geographic, Lens Culture, Bird in Flight, Reporters, The Village Ukraine, and others.

Pavlo Kovach, born in 1987, is a Lviv-based artist. He studied at the Adalbert Erdeli Uzhhorod Art College and at the Lviv National Academy of Arts, where he received his BA and MA degrees. He co-founded the artist-run Detenpyla and Еfremova26 galleries. Since 2009 Pavlo Kovach has been actively exhibiting both in Ukraine (Dzyga, Bottega, and Detenpyla galleries) and abroad. He was a co-author of all the works of the Open Group collective. The group won the PinchukArtCentre Prize 2015 and participated in the Venice Biennale in 2015–2017 and in 2019 as curators of the Ukrainian pavilions. Since 2020 he has been a curator at the Lviv Art Center.