Staff
Antonia Angold
Accountant
Dr. Franziska Bomski
Academic Staff
is a literary scholar whose work focuses on the intersection of literature and science. She earned a PhD from the University of Freiburg with a dissertation on mathematics in the thought and poetry of Novalis, which was published by De Gruyter as Die Mathematik im Denken und Dichten von Novalis in 2014. She has also written on the history of German literary scholarship, with a particular emphasis on the Nazi era, and on various themes in the works of Robert Musil, Christa Wolf, and Dietmar Dath. She has held teaching positions at Goethe University Frankfurt, Yale University, and Beihang University, and she was a Volkswagen Foundation Postdoctoral Fellow at the Washington University in St. Louis. From 2012 to 2018 she served as the research coordinator at the Klassik Stiftung Weimar. She joined the Einstein Forum in 2018.

Homepage: franziskabomski.de
Tel: 0331 / 27178 - 15
Dominic Bonfiglio
Project Assistant
Dominic Bonfiglio studied philosophy and art history at the Johns Hopkins University and at the Humboldt-Universität zu Berlin, where he received the master's thesis prize of the Carl-und-Max-Schneider-Stiftung. In addition to his work at the Einstein Forum, he translates books into English, most recently Jan Philipp Reemtsma's Trust and Violence (2012).
Tel: 0331 / 27178 - 0
Liane Marz
Secretary
Dr. Matthias Kroß †
Academic Staff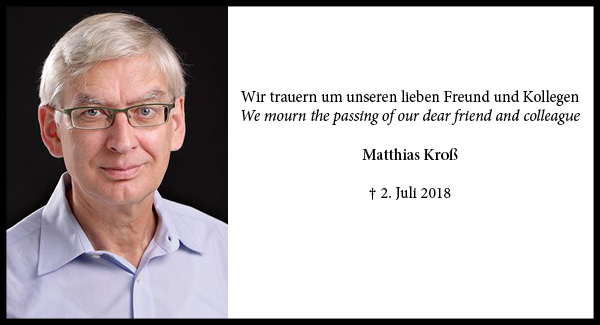 Born 1953. He is researcher at the Einstein Forum since 1995. Matthias Kross studied history, political science, and philosophy in Marburg, Bremen, and Berlin. He then worked as a high school professor and as a freelancing journalist, translator and essayist. In 1993, he received his doctorate at the Free University of Berlin with a dissertation on Klarheit als Selbstzweck. Ludwig Wittgenstein über Philosophie, Religion, Ethik und Gewißheit. He is board member of the literaturWERKstatt (Berlin) and Councilor of the Institut für Kulturforschung Heidelberg, and Councillor of The Tagore Einstein Council at the Visvra Bharati University, (Santiniketan/Bengal, India). He is teaching at the University of Potsdam (Germany). His research interests focus on the philosophy of logic and language and on the cultural and intellectual history of the 19th and 20th century. He has written extensively on the philosophy of Ludwig Wittgenstein. Recent publications: (editor): "Ein Netz von Normen". Ludwig Wittgenstein und die Mathematik (2007); (with G. Abel und M. Nedo): Ludwig Wittgenstein. Ingenieur – Philosoph – Künstler (2007); (with Susan Neiman): Zum Glück (2004); (with U. Arnswald and J. Kertscher): Wittgenstein und die Metapher (2003); (with H. J. Schneider): Mit Sprache spielen: Die Ordnungen und das Offene nach Wittgenstein (1999). Since 2006, he is series-editor of Wittgensteiniana.
Dr. Martin Schaad MBA
Assistant Director
Dr. Martin Schaad studied history, economics and philosophy at Stirling University before completing a D.Phil in modern history at St Antony's College, Oxford. He was also awarded an MBA at Heriot-Watt University, Edinburgh. His publications include Bullying Bonn: Anglo-German Diplomacy on European Integration, 1955-61 (Macmillan: Basingstoke 2000), "Dann geh doch rüber.." Über die Mauer in den Osten (Ch. Links Verlag: Berlin 2009), Die fabelhaften Bekenntnisse des Genossen Alfred Kurella (Hamburger Edition 2014), Der Hochverrat des Amtmanns Povel Juel (transcript: Bielefeld 2020, Open-Access) and, most recently, Brennen sollstu! Die Hexen von Poel (callidus: Wismar 2021).

Homepage: www.martinschaad.de
Tel: 0331 / 27178 - 16
Andreas Schulz
Library/Webmaster
Andreas Schulz studied political science and sociology at the Phillips-Universität Marburg/Lahn and the University Hamburg and Scientific-Documentarist/Information Specialist at the Institut für Information und Dokumentation, Potsdam.
Tel: 0331 / 27178 - 30
Goor Zankl
Management
studierte in Hamburg an der Hochschule für Musik und Theater Kultur- und Medienmanagement. Bevor er ans Einstein Forum kam, war er als Produktions-Manager am KW Institute und der berlin biennial for contemporary art in Berlin tätig.
Tel: 0331 / 27178 - 22
Dr. Rüdiger Zill
Academic Staff
Dr. Rüdiger Zill studied philosophy, history and sociology at the Free University of Berlin and at the Warburg Institute London. For his dissertation on Meßkünstler und Rossebändiger. Zur Funktion von Modellen und Metaphern in philosophischen Affekttheorien he received his doctorate at the Free University of Berlin. He has published on aesthetics, cultural theory and the history of knowledge.

Homepage: www.ruedigerzill.de
Tel: 0331 / 27178 - 20